The University of Waterloo Stratford Campus is home to North America's tallest Christie MicroTile wall consisting of 150 MicroTiles spanning a three story height. Through collaboration with Christie I helped architect the wall through determining how the wall would be best used by the University with a content strategy and determining optimal viewing angles.
The content strategy was developed from student input on what they would like to see on the wall as well as input from all parts of the school. The University also wanted to ensure that the wall would be future proof with room to upgrade the resolution, and input capabilities over the years. The strategy also included a way to use the wall for special occasions, different operating modes, and seasonal content suggestions.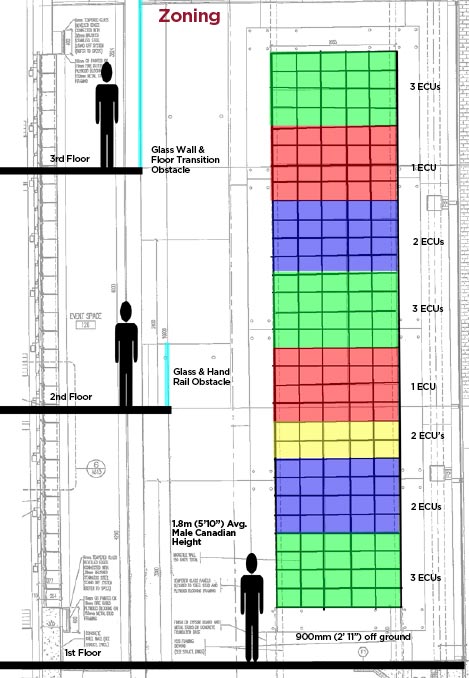 The most difficult design problem to solve was the viewing angles. The wall was being designed without a real spacial sense of it's sheer size, we had to rely on mathematical calculations on best content sizes and viewing areas. The 20/20 visual rule and arc minute calculations where used to determine optimal viewing distances and sizes, a zoning document was then created for the content to optimize reading and comfort, providing the best viewing experience.
The green zones represent optimal viewing experience from that particular floor, blue is less than optimal, yellow is less than optimal for both floors as the building is open concept, and red is an area to avoid use for important or readable content.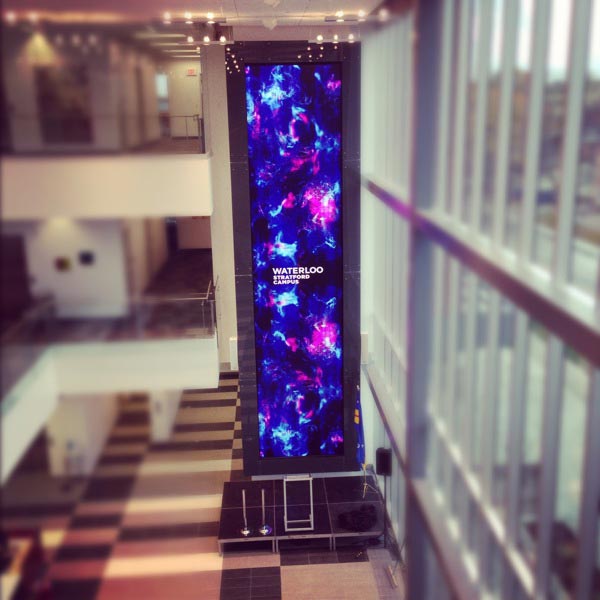 Content was sourced for the wall by looking for unique visuals to showcase the power and impact of the wall in it's full canvas operating mode. The content on the wall in this photo was purchased under a commercial license from a designer that was found through YouTube. I then adapted the content to fit to the wall and seamlessly loop.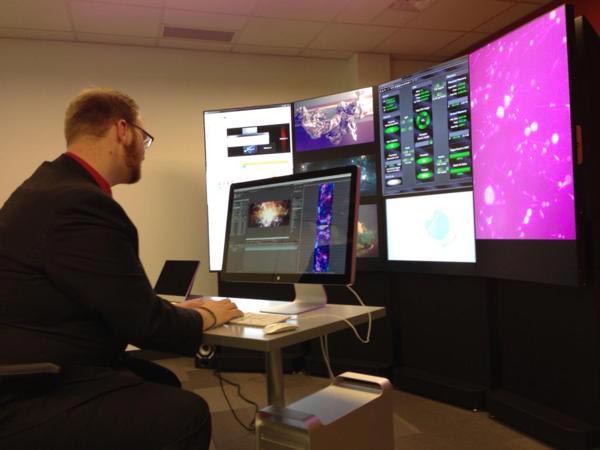 The wall also consists of it's own control room that also requires content for display. This wall is set to be used as a live feed of what is running on the wall, what is coming up in the timeline, and a workspace area to test content before it is put on the wall.
I also developed an After Effects and Photoshop template for video and static content being designed for the wall, as well as rendering presets and technical specifications needed for rendering. All of these were bundled with instructions on how to use them and information about the wall in one handy designing for the wall kit.